Successful design registrations that someone would likely have discouraged you from filing.
No. 1: Half‐bagel
Jose Vuidez got a Spanish Design Registration for a "half‐bagel PIZZA BASE". Seriously? How do Spanish design examiners add salmon and cream cheese to their bagels?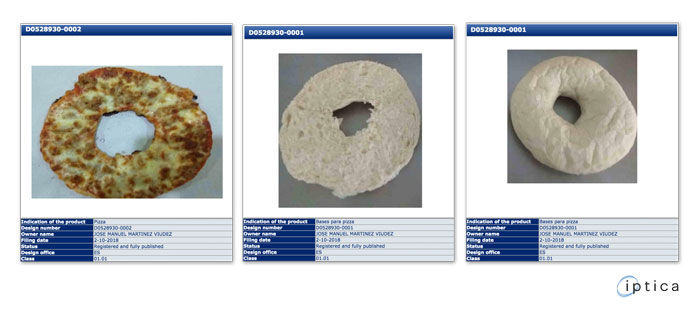 Jose was also granted a Design Registration for a completed PIZZA made using his unique Pizza Base. This I can digest more easily. Now, before you question why anyone would want to make a pizza on a bagel, see these images …

A hole in the centre ‐ something unacceptable in a pizza ‐ is rather alluring in a Bagel Pizza.
No. 2: Pretzel‐shaped sausage
If it were a Pretzel, it would likely not have been Design Registered. But since, it's a sausage; well that's something completely different: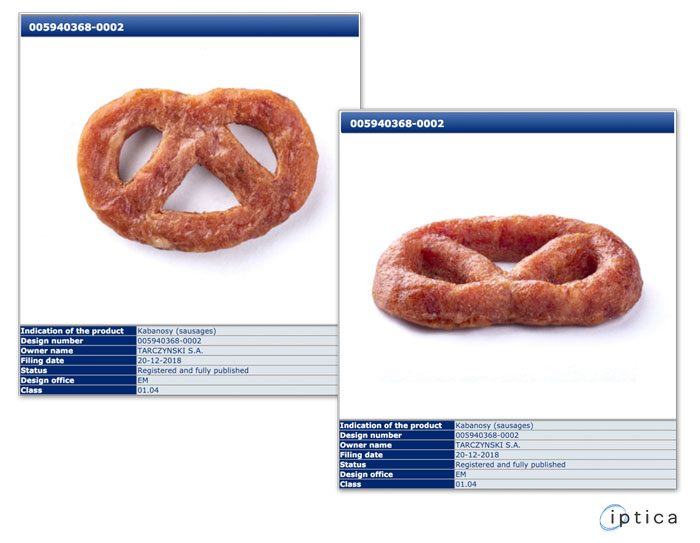 No. 3: GUANGDONG ZHENFENG Man
Isn't this a bit cheeky: Guangdong Zhenfeng was issued a European Design Registration for a figurine that looks remarkably similar to the LEGO man …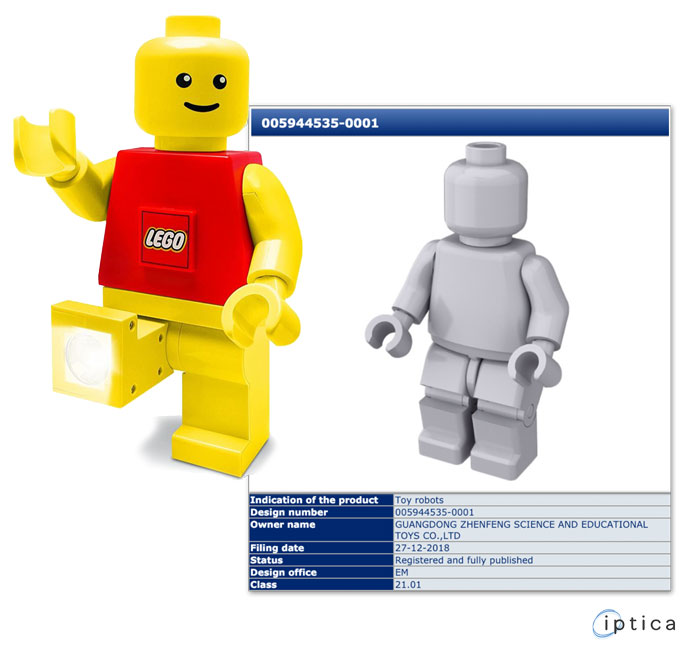 No. 4: Pita‐burger
Salumificio Design Registered the shape of its FLAT BREAD BURGER. The USP: you can pack at least 8 of them in your lunch box.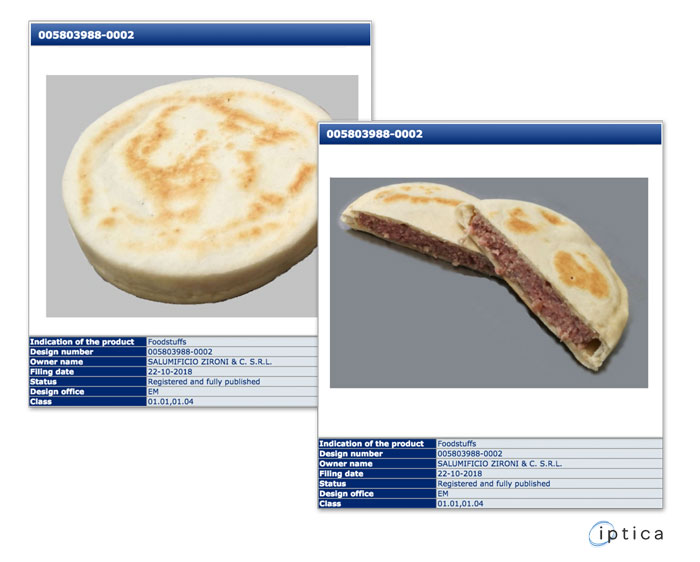 Condeco E Rocha extended the thinking laterally: what best accompanies a burger? Chips! So, he quickly Design Registered the perfect side‐order ‐ the CHIP‐PITA: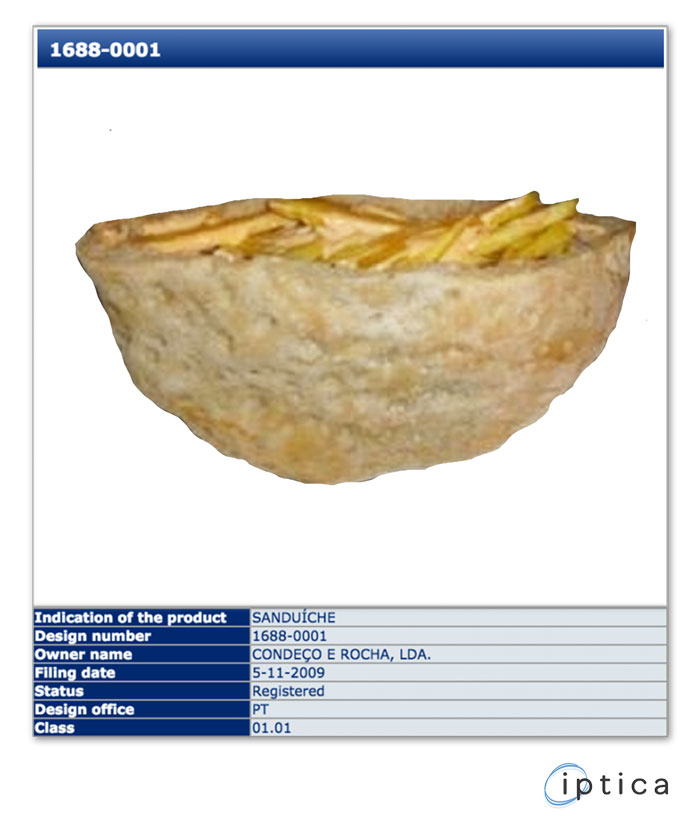 No. 5: Messy arrangement of chips
Poslednik Design Registered the shape of his POTATO CHIPS ‐ both before and after cooking. Personally, they look more like crisps than chips to me. Very grunge.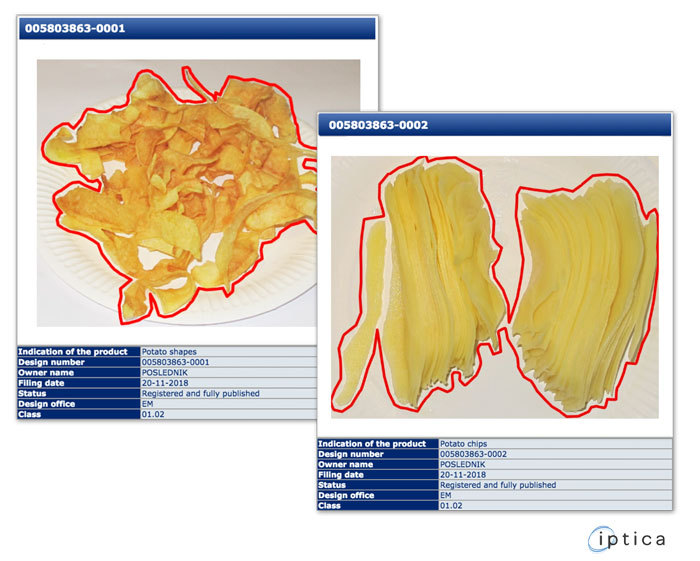 No. 6: Sushi ‐ California rolls
One day KYOKUYO pondered: "why must sushi sheets be green?" Apart from the obvious that seaweed is green, there was no truly compelling reason. So, they made sheets of different colour. KYOKUYO particularly liked orange. So, they filed a European design for an orange sheet. Now granted, all funky orange sushi sheets eaten by Europeans for the next 25 years will be supplied by KYOKUYO. Nice little business!
KYOKUYO's next project: a new take on Eggs & Ham.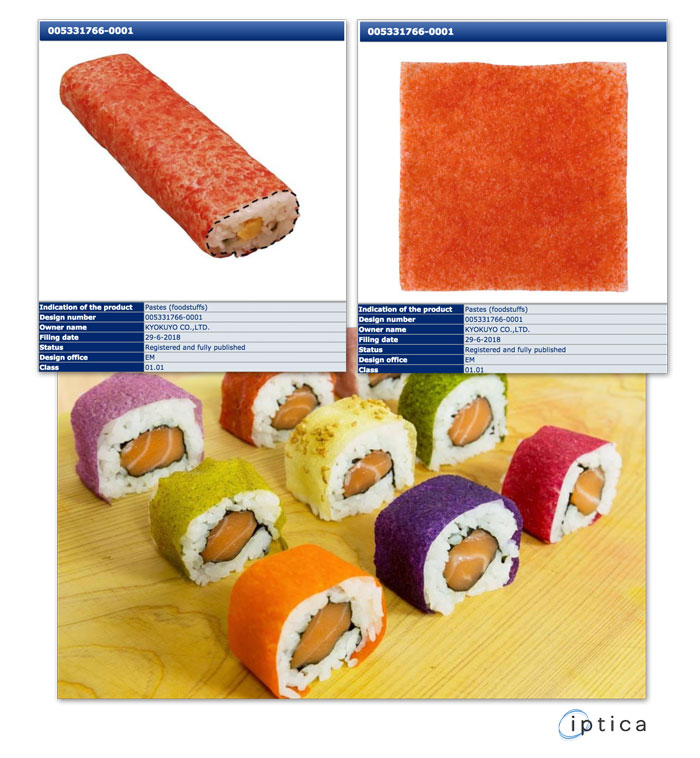 No. 7: Cheesecake doughnut
As a DOUGHNUT, Paula James' doughnut was remarkably unexceptional. But it wasn't an ordinary doughnut. It was a CHEESECAKE DOUGHNUT, which made it eminently Design Registrable!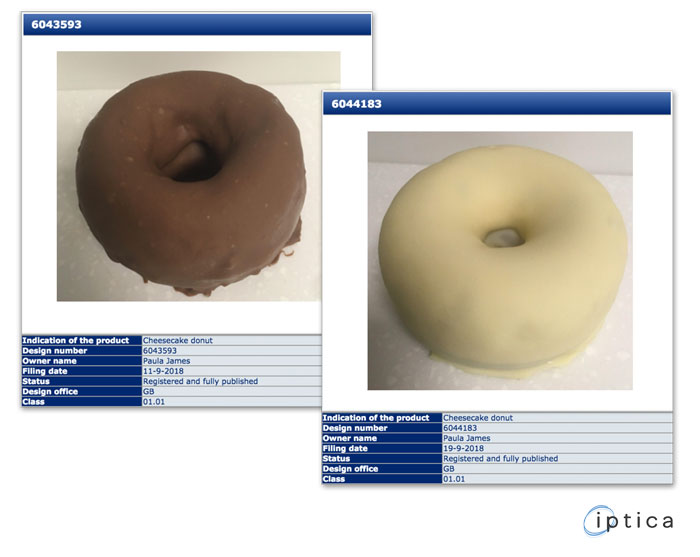 No. 8: Stuffing an entire clothing range into a design registration
For one of the Major Clothing Brands, these guys take a super‐dodgy (never mind cheap) approach to registering clothing Designs. You would be surprised at who this is …. Dolce & Gabbana. Not sure what's more embarrassing: the scribbled writing; the "devil may care" lighting; or the Sieg Heils.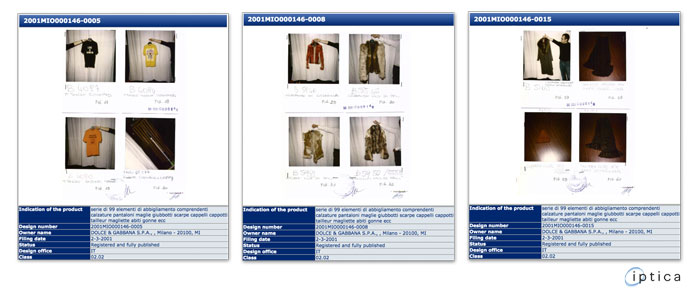 No. 9: Oreo?
Spot the difference:
LEFT: Spanish registered design owned by Galletas Gullon
RIGHT: European registered trademark owned by Intercontinental Great Brands
Will the real OREO please stand up?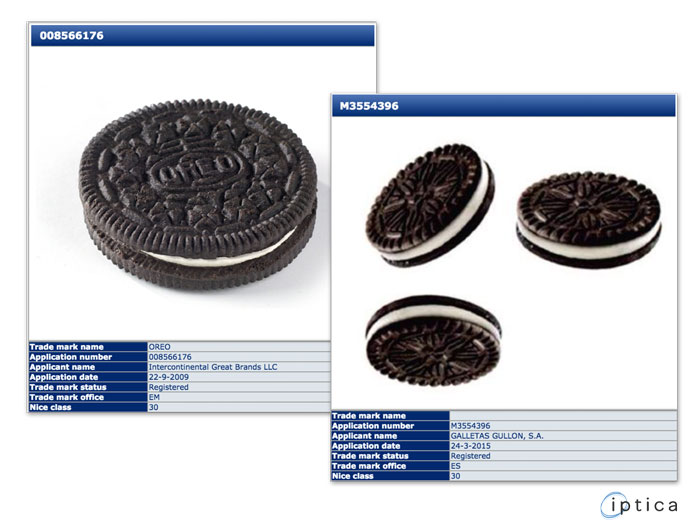 No. 10: Alphabet food
Alphabet Soup was BIG. Alphabet Nougat not so Big.
Who would've guessed?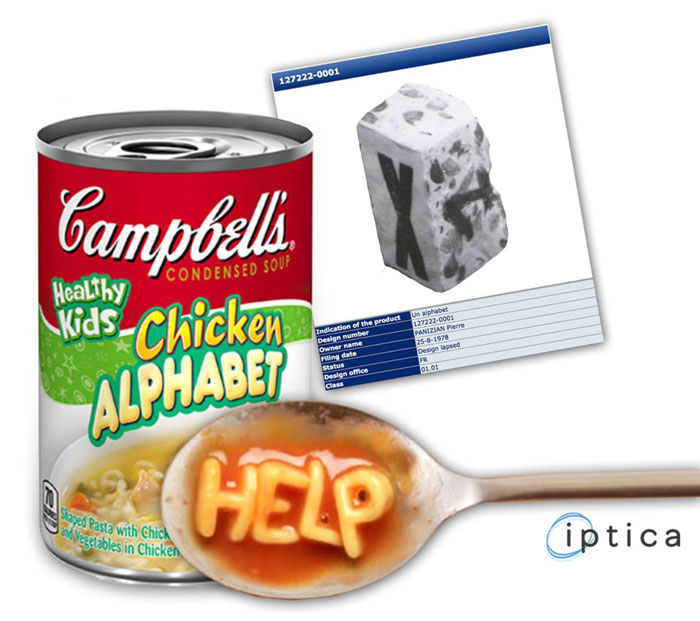 No. 12: Toblerone'ish
TOBLERONE for pets ‐ get your dog excited about your flight back from a business trip!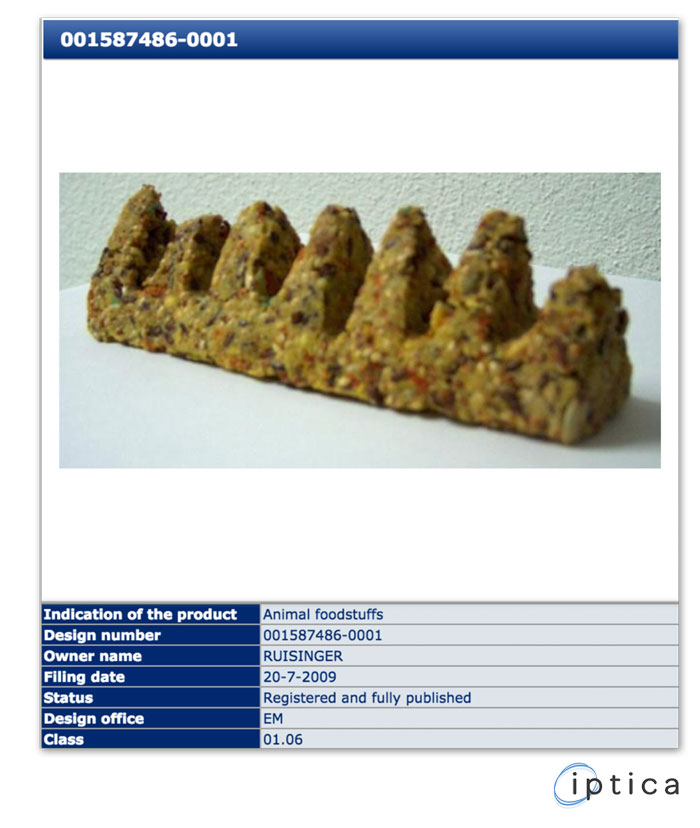 It sure beats this humble little design registered treat ‐ a slice of sausage: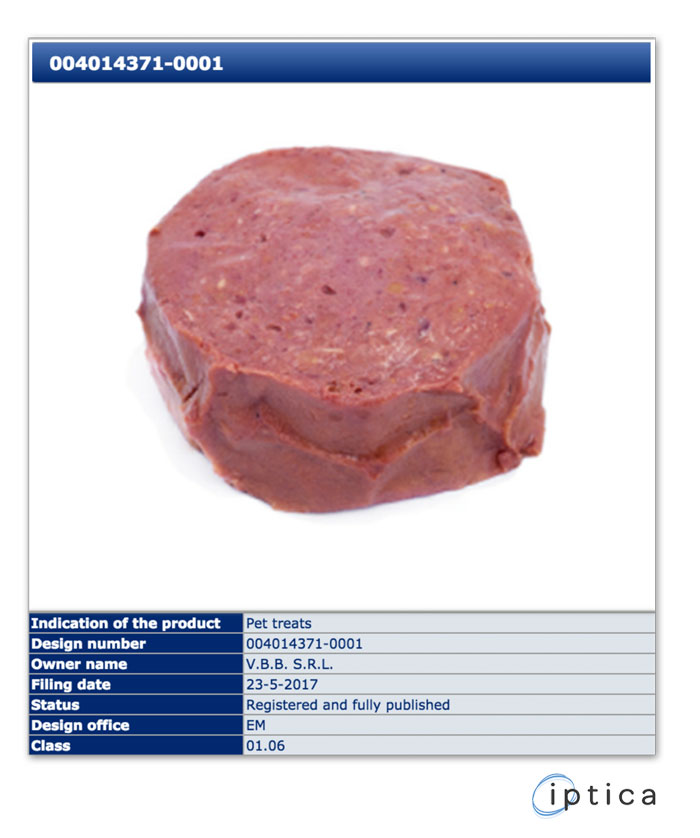 No. 13: Croissant cupcake
Bruno loved Croissants. He also really enjoyed cupcakes. So, he Design registered his CROISSANT CUPCAKE. Now, he "owns" it for 25 years!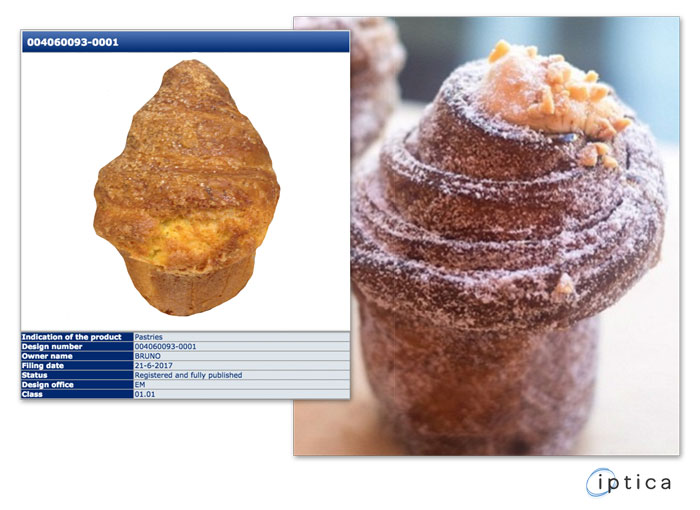 No. 14: Restaurant layout
Think twice before copying McDONALD'S restaurant layout ‐ they've Design Registered it …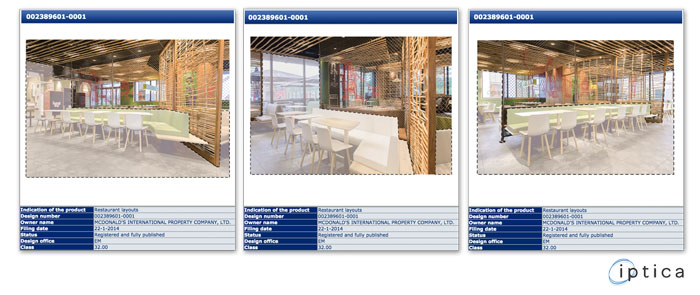 BURGER KING similarly Design Registers the outside look of their Buildings, as well as their Service Counter:

No. 15: Shredded wheat
Why do Kellogg's, Nestle's and Post Foods' SHREDDED WHEAT all look the same?
Back in 1915, Kellogg's design registered the shape of Shredded Wheat. For some reason, consumers loved it. And, Nestle and Post Foods had to wait until 1929 for the design registration to expire and copy it. This 100+ year old shape is more popular today than it has ever been.
If Kellogg's had only trademark registered the shape as a 3D trademark in 1929, Kellogg's would have maintained its monopoly of the Shredded Wheat shape in perpetuity! A small Oopsie.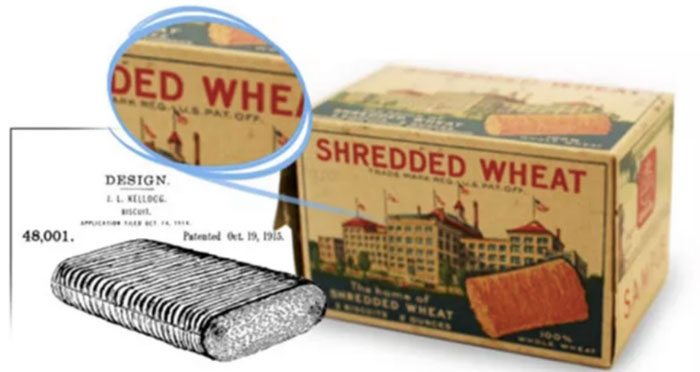 No. 16: Lesson: There's nothing too mundane
Never say "It can't be done":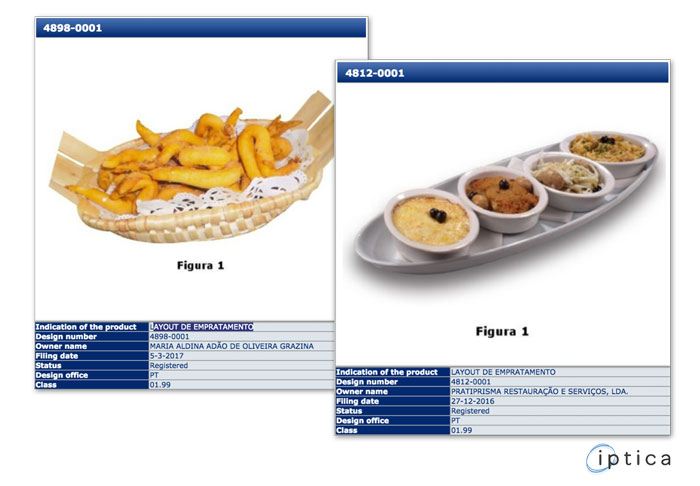 No. 17: Mouth‐wateringly beautiful and creative applications for Ice Cream Cones
PIZZA in a CONE: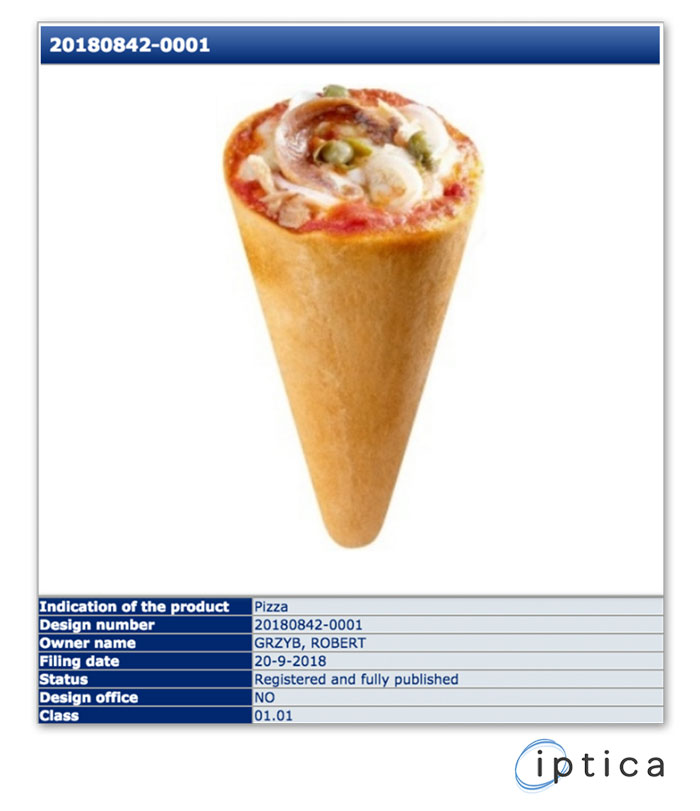 PASTA‐SALAD in a CONE: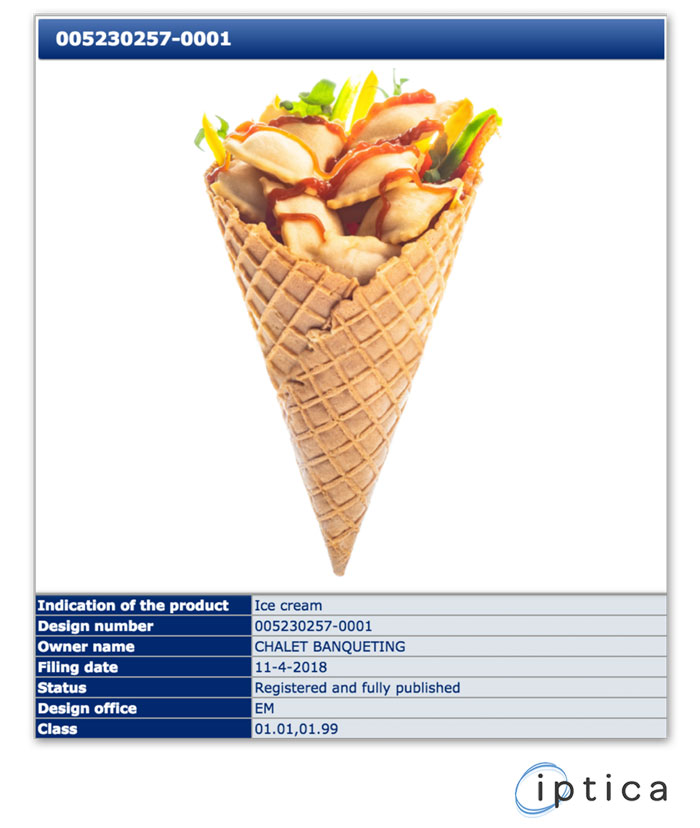 Visit Register Recipe to protect your designs.