Trunkis: those pesky, pansy, $100 pseudo cases that A.D.Ds frog around ‐ whizzing, darting, buzzing; filled with lumo bracelets, Play‐Doh, Spot the Dog and multi‐coloured bloody pens. Check‐in your bags, stroller, Big fluffy Panda, snorkel. Enough? No. More … add a Trunki!
Let's start again: The Trunki was Rob Law's failed pitch to the Dragons. Back in 2006, with 20,000 sales under his belt, Rob offered 10% of his company for £100,000. Theo "the Brute" Paphitis broke the strap off the case and things quickly went pear‐shaped, with Peter Jones proclaiming:
"This type of product is not patentable … Within 7 days I could do a better job than that. Make sure the clips are working. I could have this in production by the end of next month. Your company is currently worthless. I'm out."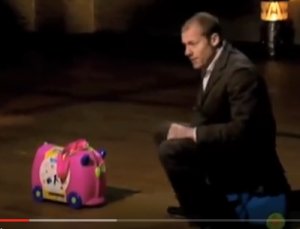 Better job? Better than 3,000,000 sales in ten years? Congrats Rob! Congrats, big time! Although trunki‐tots owe their wellbeing to the pervasive prescription of Beta Blockers, I wish I had invested.
But why not copy the concept?
The name TRUNKI is protected by trademark registrations, e.g. European trademark no. 004904645: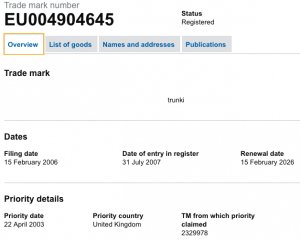 No big problem here. Let's just call the rip‐off a KIDDEE. Sure, can't really trademark register this, but who cares anyway? We are openly making a blatant rip‐off product.
Then, what about the design? Trunki has a European design registration no. 000043427‐0001.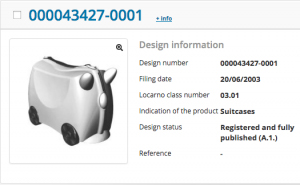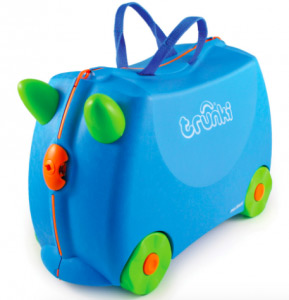 But all we need to do is ensure that our design is not "substantially similar". Voila … how about this?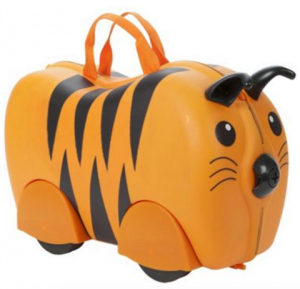 Come on: ignore the horns, knobbly nose, arched back, "saddle" carry handles and wheeled feet. Our design has wheel cover plates ‐ the distinctive design feature of the Jaguar XK120.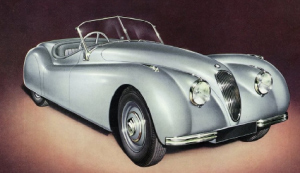 Well, the UK Supreme Court had its say:
the overall impression of the Trunki design was that of a horned animal ‐ Trunki 1 : Kiddee 0;
but the Trunki design shaded the "horns" and wheels, making them prominent, whereas the wheels on the Kiddee case were covered and inconspicuous ‐ Trunki 1 : Kiddee 1; and
the Kiddee horns were of a different shape; the wheel cover plates' colour matched that of the body; one was obviously a bee‐cat, while the other was a raging bull ‐ Trunki 1 : Kiddee 2.
Kiddee wins. Cost of court case: £500,000. Hindsight not to shade the wheels and horns in a darker colour: Priceless.
Designs do not protect "concepts". They merely protect the "shape", and then only to a limited degree. Kiddee could freely admit it had stolen the concept and made a 33% cheaper rip‐off version. But, it was careful to ensure that the shape of the Kiddee case was sufficiently far removed from the shape of the Trunki design.
Maybe Kiddee was just following Peter's advice. Or, did Peter walk his talk?